Introducing The Sivana Bali Team
Sivana Bali has the most experienced team on the island of Bali. Every day the care of our clients is supervised by an onsite Clinical Director and a Program Manager with a combined experience of 50 years in the AOD field as well as our excellent recovery coaches. Additionally, the team work with two very experienced psychiatrists who evaluate clients on arrival as part of our comprehensive assessment process.
We also have a team of amazing ground staff who will do everything within their power to make sure that your time here is as comfortable and pleasant as possible.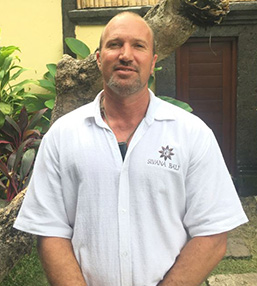 Nev Doidge
Founder
Diploma of Social Work, Post Graduate Diploma Addiction Studies
Nev Doidge fought addiction for 20 years and understands the struggles individuals may encounter before finding their way to recovery. Nev has worked in the AOD field since 2003 and is passionate about helping people to improve the quality of their lives.
He began his career as a social worker and then undertook a postgraduate in addiction studies subsequently working as a counsellor, program manager and recovery support coach. His experience the AOD and social work fields shaped a vision for a different class of holistic treatment centre, and with the help of some like-minded investors, Sivana, the best treatment centre in Bali was born.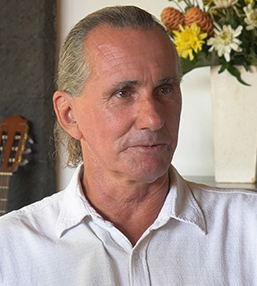 David Rowe
Program Manager
Advanced Certificate in Addiction Studies
David Rowe joined the team in 2017 and has been working in the AOD sector for over 30 years. His extensive experience, as well as an extremely personable manner, make him a valuable asset to the Sivana team.
David comes from Sydney, Australia, and has designed and implemented addiction treatment programs for the government. David has an Advanced Certificate in Addiction Studies, plus certificates in Frontline Management, Cognitive Behavioural Therapy, Group Facilitation, and Risk Interventions.
As Program Manager, David runs the day to day timetabled activities assisted by one of the recovery coaches as well as counselling clients one on one. His ability to meet people where they are at, endless compassion and dry sense of humour, as well as his extensive skills, make him ideally suited to his role here.
He also has experience establishing and maintaining networks with community, government, and non-government agencies, enabling him to refer clients appropriately when they leave treatment. He loves this job and is passionate about motivating others to find and maintain their recovery.
As a recovering addict with over 37 years of active recovery, he is an example to clients of what is possible. David is an avid surfer and enjoys the lifestyle that Bali has to offer.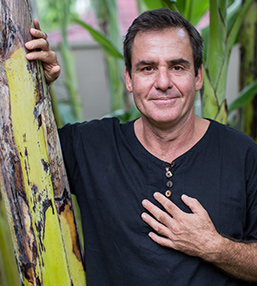 David Elsey
Counsellor
Analytical Psychotherapist Diploma, Certified Hypnotherapist, Master Practitioner in Neuro Linguistics.
David Elsey qualified as an Analytical Psychotherapist in 2008 with a diploma from the Churchill Clinic in his home town of Perth, Australia. He had always been fascinated by what makes people tick and he went on to qualify as a master practitioner in Neuro Linguistic Programming as well as a certification in Hypnotherapy in 2010. After this, alongside a psychologist, he worked in a private holistic practice in South Fremantle and the success of this project led him to move to Melbourne to establish a similar model.
He was Sivana Bali's first counsellor in 2015 and has been a cornerstone of the clinical team since then. The Sivana clients benefit from his skills in NLP and David says this modality more than any others is of benefit to address their limiting belief systems. He also works with clients on their dysfunctional patterns of thinking and uses effective cognitive behavioural therapy. He is an expert at building rapport and has a real passion for helping those suffering from addictive disorders as his own experience of addiction and recovery informs his work. David loves living in beautiful Bali and adventuring around the island, he also builds model aeroplanes.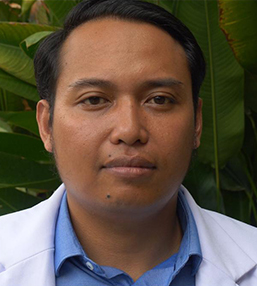 Dr. I Gusti Rai Putra Wiguna, Sp.KJ – Dr. Rai
Psychiatrist
Dr. Rai, as he is known at Sivana, examines patients on their arrival at the treatment centre as part of our comprehensive assessment process. He went to Udayana University to study medicine and in 2008 specialised in psychiatry, receiving his postgraduate qualification from the same University.
Since qualifying he has worked at Wangaya Hospital, SMC Clinic, and Ubud Care Clinic. He is an active member of the team responsible for the National Narcotic Board in Bali and the founder of Rumah Berdaya, Denpasar which provides psychosocial rehabilitation for people with severe mental disorders. He loves to work in the field because he enjoys working with marginalised communities and improving people's quality of life.
Dr. Rai enjoys working as part of the multidisciplinary team at Sivana and seeing the transformation of our clients. In his free time, he likes to hang out with his family and is interested in Japanese classic cars and loves Liverpool Football Club.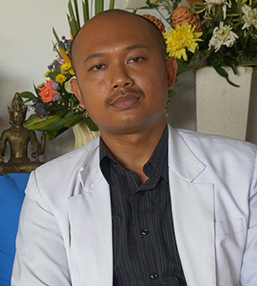 Dr. I Gde Yudhi Kurniawan, SpKJ – Dr. Yudhi
Psychiatrist
Sivana Bali's other psychiatrist, Dr. Yudhi, also attended Udanyana University for both his medical degree and his post-graduate qualification in psychiatry. Since 2019 he has been the psychiatrist in charge of the drug rehabilitation unit in Bali Province Mental Hospital and has worked for this unit since 2017. He also works from Sudirman Medical Centre Clinic.
Dr. Yuhi is fascinated by human behaviour and cites this as the reason why he wanted to specialise in this field. He very much enjoys working with the clients at Sivana as he loves to help people from different cultures. When he is not working Dr. Yudhi likes to spend time with his family going to the beach or visiting places with historical heritage.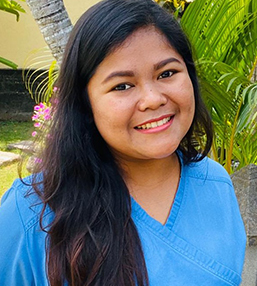 Adinda Kartika – Dinda
Nurse Coordinator
Diploma in Nursing
Dinda qualified as a registered nurse in 2013 but had been working in the health care industry as a nursing assistant since 2007. She studied at William Booth Nursing School in Surabaya, and her first post was at the International SOS Clinic in Bali as a trainee paramedic. Since then, she has worked as a Nurse Coordinator at The Dose and in the health screening unit of the National Hospital in Surabaya.
She started working at Sivana Bali in 2018 and quickly became a cornerstone of the clinical team, looking after all the withdrawal regimes and any minor health complaints. She enjoys watching the difference that the holistic program makes in the lives of those who attend for treatment.
Dinda's excellent English and sunny disposition make her popular with the clients, and she is also devoted to the rehab center's cat called Bowie.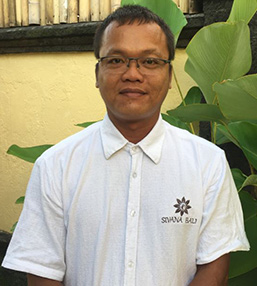 Nanul Prasetyo
Senior Recovery Coach
Nanul has worked at Sivana Bali since it opened and has a vast amount of knowledge and experience working with our client group. He is passionate about supporting people at the start of their journey in recovery and loves to see people come back to Bali and share how their new lives are working out.
He gained valuable career experience as an HIV/AIDS volunteer for harm reduction program in Yayasan Kesehatan. He then worked as a coordinator and facilitator for the rehab program at Muda Berdaya Yakita. Following this, he began to work at Yayasan Kasih Kita as an addiction counsellor. He was a member of the clinical staff from 2011 to 2014 before moving to Yayasan Bali Suara Hati as a recovery coach for one year.
He joined Sivana in 2015 and is part of the team that assists the Indonesian community through our non-profit organisation Yayasan Pesona Sivana Bali.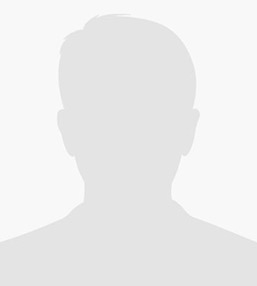 Martin Laurens Matullessya
Recovery Coach
Certificates in Substance Abuse Therapy, Counselling Skills, Crisis Intervention, and Professional Ethics
Martin loves working with clients and watching them start their journey in recovery; he really enjoys seeing the start of people understanding what they need to do to change. He has worked in the AOD field since he found recovery in 2008.
He has worked as both a peer support worker and counsellor with the Badan Narkotika Nasional (BNN), as a member of a harm reduction team in Sumatra and at the biggest rehab in Indonesia in Bogor, West Java. Martin started at Sivana in 2018 and is known for his mischievous grin and his excellent abilities on the tennis table.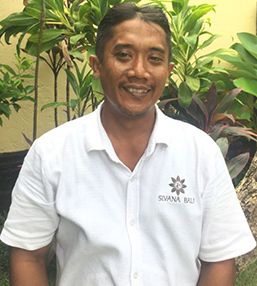 I Gede Wiguna Arta Giri
Facility Manager
Gede works as the Facility Manager making sure that the lovely property and the tropical gardens are well maintained as well as ensuring all manner of things from client's visa extensions to airport pickups are taken care of. He is an indispensable member of the Sivana Bali team and has worked in the luxury villa and property market for over 15 years before joining the rehab centre staff.
In one of his previous roles, he managed a high-end property in Seminyak, looking after all the staff, making sure that high standards were maintained at all times. Also, Gede ran his own company, both building and renovating several villas on the island. Under his watchful eye, his team is instrumental in keeping the Sivana property looking as beautiful as it does.
He is passionate about making sure that clients stay with Sivana is as comfortable as possible and is always on hand to help with anything that needs to be done. Gede speaks brilliant English and embraces all opportunities to learn something new. He says that life is not about how much money you earn or what you have but about what you have done. Often Gede can be found at the temple in the garden teaching the clients to mediate and explaining the concepts of the Hindu religion.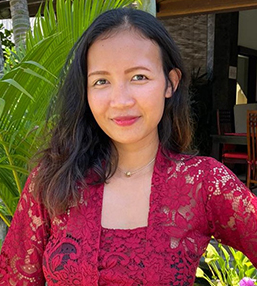 Ni Putu Sulistyarini – Sulis
Office Manager
Diploma in Business Administration
Sulis joined the Sivana team in February 2018. Her background in business and administration means that the administration side of the Sivana operation is a well-oiled machine. She said that she finds working for Sivana to be a humbling experience and that she enjoys the friendly people here.
While she was still studying for her diploma Sulis worked for a travel agency and after that was the secretary to the managing director of a building contractor in Bali. She then spent 5 years working for a different travel agent in Sanur overseeing all the contracts, products and services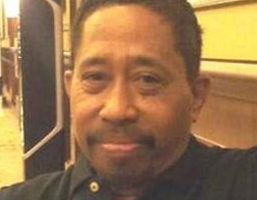 Jaury Roeland Hukom
Director of Sivana Bali
As well as being a lawyer, Mr. Hukom has been engaged as a Director by Sivana Bali. He has been a pillar of the community for more than 20 years and feels that Sivana Bali and his community have similar objectives ultimately: to serve and help people in need.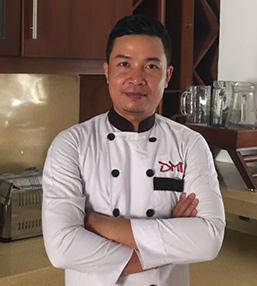 I Wayan Miarta
Chef
Diploma in Hotel Management
Chef Wayan has worked in the hospitality industry for many years and has extensive experience in the food and beverage sector. He began his career as a commis chef in one of the best Italian restaurants in Bali, which nurtured his outstanding cooking skills.
He received his diploma from the most prestigious University on the island focusing in Hotel Management and has worked in some of the most exclusive private villas in Seminyak, Canggu, and Sanur.
His skills were refined further to the western palette as he gained valuable overseas experience in Greece, Italy, and Moscow. Wayan takes great pride in the role he plays, helping clients to be restored to health and knows the delicious, nutritious food he prepares makes a real difference. He loves being a part of the Sivana family and does his utmost to cater for any special dietary requirements.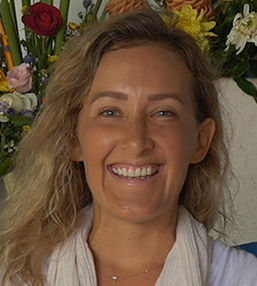 Yenifer Canelon
Yoga Instructor
E-RYT200hr Yoga Teacher, E- RYT50hr Tantra yoga training, E- RYT50hr Yin Yoga training, 100 hr | Life and Health coach course
Originally from Venezuela, Yeni grew up between two Caribbean islands and started practicing yoga at the tender age of 10 years old before eventually embarking on a formal qualification in 2015. Since then she has been teaching Yoga and meditation for the retreats industry in Bali and leading private classes.
She has been teaching hatha yoga, meditation and pranayama sessions at Sivana since 2018 and has loved seeing the difference that the practice makes in the lives of our clients. As well as teaching yoga, Yeni has worked as an oceanographer and photographer and speaks English, Spanish, Italian and Bahasa Indonesian.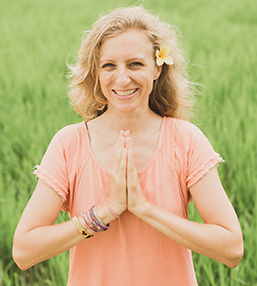 Vanessa Bachmann – Reiki and Yoga
200 hrs Yoga Teacher Training, Reiki Master Teacher, Naturopath for Psychotherapy
Vanessa is a Reiki Master and a Yoga Instructor with a background in coaching, meditation and mindfulness practice. Originally from Germany, Vanessa found her home in Bali after setting off to travel the globe in 2014. She is passionate about guiding people on their journeys in life and has worked with clients from all over the world, with different mental and physical health issues.
Vanessa was introduced to Reiki in 2006 and since then has loved to share this nourishing practice working on releasing people's energy blocks. Vanessa loves watching how the clients arrive at Sivana restless and anxious and how over a period of time they become calmer and more grounded. She says it's beautiful to watch them slowly opening up their emotions and treating themselves better.