Our People
Introducing The Sivana Bali Team
Sivana Bali has the most experienced team on the island of Bali. Every day the care of our clients is supervised by an onsite Clinical Director and a Program Manager with a combined experience of 50 years in the AOD field as well as our excellent recovery coaches. Additionally, the team work with two very experienced psychiatrists who evaluate clients on arrival as part of our comprehensive assessment process.
We also have a team of amazing ground staff who will do everything within their power to make sure that your time here is as comfortable and pleasant as possible.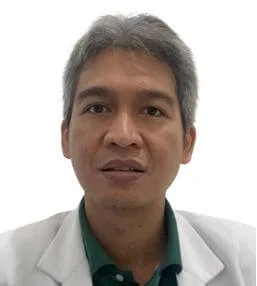 Dr. Belly
Psychiatrist
Dr. Belly is a psychiatrist who has made significant contributions to the field of mental health.
He obtained his initial medical education from Udayana University, where he completed Medical School from 2003 to 2007.
From 2013 to 2017, Dr. Belly specialised in psychiatry and earned a Master of Biomedical Sciences degree.
He then continued to broaden his academic career and from 2018 to 2022 he completed his doctoral degree in medical science. During this same period, Dr. Belly chose to further amplify and showcase his diverse interests, by pursuing studies in Information Systems at ITB STIKOM BALI from 2018 to 2022.
Dr. Belly's pursuit in furthering his education demonstrates his commitment to advancing his knowledge and expertise.
Throughout his career, Dr. Belly has worked as a psychiatrist at the local Wangaya hospital. Dr. Belly also holds positions at Balimed Hospital and Denpasar Mental Health Centre. Notably, he is the proud founder of the Denpasar Mental Health Centre, where he has implemented innovative approaches to improve mental health services.
Dr. Belly's passion for teaching has led him to become a respected lecturer in psychiatry at the Medical Faculty of Udayana University. With his extensive education, professional achievements, and commitment to mental health, Dr. Belly is dedicated to making a positive impact in the field of psychiatry by ensuring the well-being of his patients.
---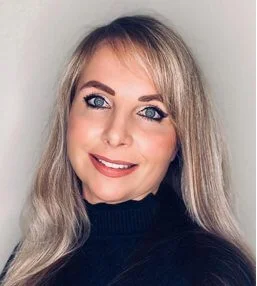 Marijke Lamont
Admissions Manager & Counsellor
Marijke is a qualified counsellor (registration body C4CSA), CBT Practitioner, and Internationally Accredited Addiction Recovery Coach.
Marijke joined the Sivana Bali team in 2023, filling the role of Admissions Manager and Counsellor.
Marijke spent 15 years working in corporate finance sales. Dominated by her need to overachieve, Marijke reached an eventual state of burn-out and addiction.
This was a turning point in Marijke's life, as she discovered that codependency was at the core of her struggles. With no support groups to turn to, Marijke set about finding a way to introduce CoDA to South Africa. After being invited to represent South Africa at the International CoDA convention in the United States of America, Marijke was able to solidify CoDA's home in South Africa.
After running her own private counselling practice in South Africa, Marijke felt a desire to broaden her horizons. In 2018, she travelled to Thailand where she ran the admissions department, worked as a counsellor, and oversaw the day-to-day management of the facility.
In her spare time you will find Marijke managing a large social media group and hosting interactive educational sessions. Marijke also enjoys long walks along the beach and hiking.
Marijke will be your first supportive point of contact when you call us at Sivana Bali. During your conversation Marijke will assess if Sivana Bali is appropriate for your needs and will gently guide and steer you through the admission process. Her mantra throughout this process is this, "You Are Not Alone".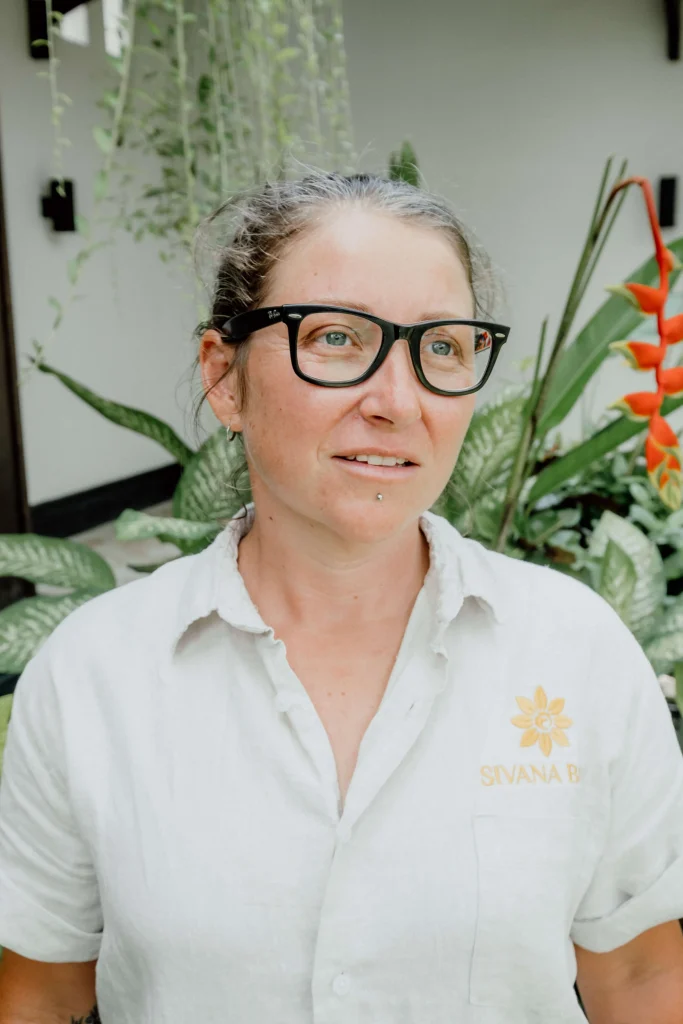 Courtney Wilson
Recovery Coach
Courtney came to Bali in 2016, seeking recovery from her addiction. Previously, Courtney spent 18 years working in the hospitality industry, mainly in hotels and as a Chef. Since her recovery in Bali, Courtney has dedicated her time to helping other people suffering from addiction and given consistent service. Courtney started with Sivana in 2017 for two years before helping at another treatment centre temporarily. She has returned to Sivana and is currently studying a diploma in Counselling. More recently, Courtney has worked within the Sivana team as a Recovery Coach, utilising both her own experiences of addiction and all that she has learnt in her personal recovery to support others. Courtney assists in Group sessions and meets with clients on a one-one basis guiding them through their written component of their 12-step program.
Courtney has a wonderful sense of humour, is compassionate and patient in all she does. In her spare time Courtney loves to challenge her mind with new adventures. She plays in the first female Australian Football League team (Bali Geckos). She loves exploring, running in the outdoors and surfing the infamous waves. Courtney is a song writer and keen musician of multiple instruments.
---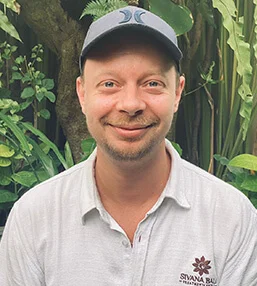 Peter Alderman
Recovery Coach
Pete joined the Sivana team as a Recovery Coach earlier at the beginning of 2022. Previously, a successful businessman in the UK hospitality industry, Pete came to Bali 5 years ago struggling with extreme burn out. Having lived a life suffering from anxiety, depression and addiction, Pete found his way to recovery in Bali.
Since then, Pete has helped set up suicide prevention and recovery services here in Bali, walking alongside those seeking mental well-being and recovery. He has expertise in Cognitive Behavioural Therapy and is passionate about teaching others how to utilise this powerful therapy to support and maintain their recovery.
Pete works with individuals attending Sivana as a Recovery Coach and assists on a one-one basis as he guides clients through their written component of the 12-step program.
With his light heartedness and jovial spirit, Pete is a great attribute to our Sivana team, providing empathy and professionalism to those attending treatment. Pete loves living in Bali and having recently discovered the joys of motorbiking spends his free time exploring the beauty of Bali and the wider Indonesian archipelago.
---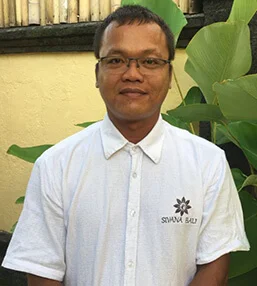 Nanul Prasetyo
Recovery Coach
Nanul has worked at Sivana Bali since it opened and has a vast amount of knowledge and experience working with our client group. He is passionate about supporting people at the start of their journey in recovery and loves to see people come back to Bali and share how their new lives are working out.
He gained valuable career experience as an HIV/AIDS volunteer for harm reduction program in Yayasan Kesehatan. He then worked as a coordinator and facilitator for the rehab program at Muda Berdaya Yakita. Following this, he began to work at Yayasan Kasih Kita as an addiction counsellor. He was a member of the clinical staff from 2011 to 2014 before moving to Yayasan Bali Suara Hati as a recovery coach for one year.
He joined Sivana in 2015 and is part of the team that assists the Indonesian community through our non-profit organisation Yayasan Pesona Sivana Bali.
---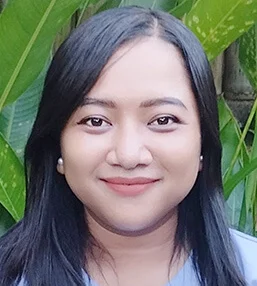 Dwitawidya Oktabriani – Brian
Head Nurse
Bachelor in Nursing
Brian qualified as a registered nurse in 2012, having studied at Vincentius A Paulo Nursing School in Surabaya. For the following 5 years, Brian worked as a Pediatric nurse at RKZ hospital. In 2017, Brian became an Executive Nurse at The Dose Bali before moving to AMO in 2018 as an IV treatment Nurse.
Brian started working in Sivana Bali in 2022 as a Nurse Co-ordinator. She is a highly motivated, reliable and enthusiastic individual, always ready to meet any challenges that arise at the centre. Brian is a warm, empathetic and very capable member of our team here.
Brian takes great satisfaction in watching the clients progress as they attend the program in Sivana. Brian engages with clients and takes time to understand how they are feeling, the process and progress they are evolving through during their stay. She takes great pride in making their time here as comfortable as possible.
When not at work, Brian enjoys spending time with her family and friends, and learning about people and herself by engaging in deep and meaningful conversations.
---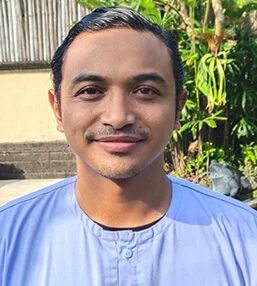 Gede Adipati Alit Srutasena Arwita – Gede
Nurse
Bachelor in Nursing
Since 2008, Gede has worked as an Assistant at a Doctor's Clinic, before completing his bachelor's at IteKes Bali, qualifiying as a registered nurse in 2012. He has worked as a Paramedic at International SOS, Medika Plaza as an Emergency Nurse, PT. Freeport as a medical check up nurse and in PT. Newmont Nusa Tenggara as an Emergency nurse with the Ambulance service(land and air). Gede is experienced in Lone working, having worked remotely completing risk assessments, inspections and surveillance on sites. He likes to work as part of a Clinical team and uses his knowledge and experience to date to provide a professional and consistent service to the clients.
Gede started working as a Nurse at Sivana in 2022. He is a friendly and calm member of the team, approachable and popular with everyone, Gede likes to take time to build trust and relationships with the clients he supervises. He assists in the programs off site activities as well as overseeing all withdrawal regimes and daily ailments, as clients enter and progress through treatment here.
In his own time, Gede enjoys exercising to increase his performance in all activities and eating healthily.
---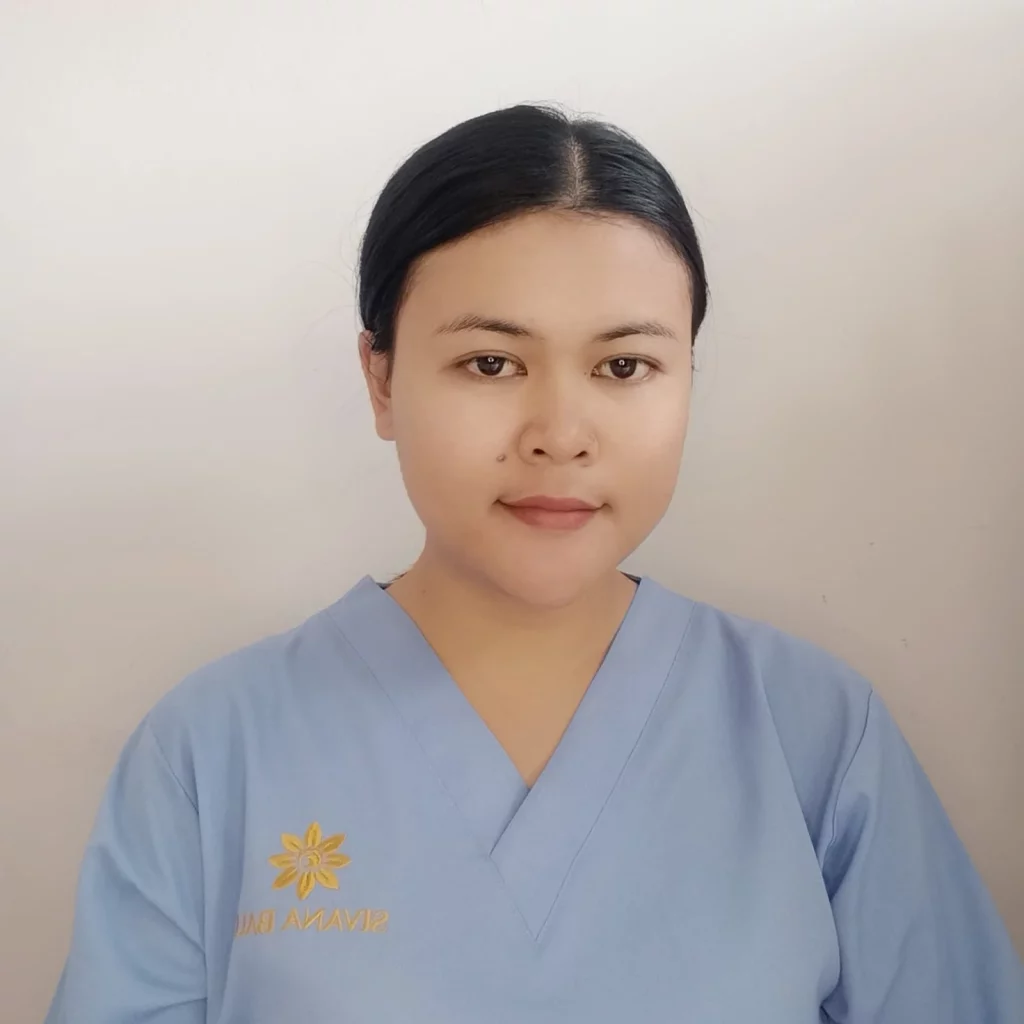 Nurse Magdalena Silvina – Silvi
Nurse
Diploma in Nursing
Silvi qualified from AKPER RS PGI Cikini Central Jakarta as a registered nurse in 2018. Silvi then went on to work as a doctor's assistant at a children's ward in West Kalimantan. After this, Silvi worked as an ambulance nurse at Siputra Cita Garden City where she was responsible for monitoring work accidents at Soekarno Hatta Airport. Silvi also worked as a CoVID-19 nurse in the inpatient ICU ward at Jaya Hospital in Central Jakarata.
With her broad level of work experience in various medical fields, Silvi is a huge asset to the nursing team. Silvi is renowned amongst the staff as being the nurse who is able to manage the client's day to day struggles with strength and dignity.
In her spare time, Silvi enjoys cooking, eating fine foods, travelling and watching movies.
---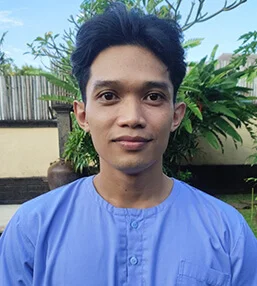 I Gusti Ngurah Hardianata – Hardi
Nurse
Bachelor in Nursing.
Hardi graduated from Itekes Bali as a nurse in 2017 and completed his first work placement at the Omsa Medic clinic for 5 years as an emergency training nurse. He has since worked as numerous fields of Nursing, from a Nurse in Charge of House clinic and Hospital clinic and as a Nurse Co-Ordinator for Earthquake Disaster Management in Lombok. He has provided home care for individuals with limited mobility and needing wound care and spent 2 years working with individuals experiencing mental health issues.
Hardi is our newest member of the nursing team at Sivana, and we look forward to him being an integral part of the staff team here.
In his spare time, Hardi likes to do sports and read books to improve his knowledge and performance in the workplace.
---
I Gede Wiguna Arta Giri
Facility Manager
Gede works as the Facility Manager making sure that the lovely property and the tropical gardens are well maintained as well as ensuring all manner of things from client's visa extensions to airport pickups are taken care of. He is an indispensable member of the Sivana Bali team and has worked in the luxury villa and property market for over 15 years before joining the rehab centre staff.
In one of his previous roles, he managed a high-end property in Seminyak, looking after all the staff, making sure that high standards were maintained at all times. Also, Gede ran his own company, both building and renovating several villas on the island. Under his watchful eye, his team is instrumental in keeping the Sivana property looking as beautiful as it does.
He is passionate about making sure that clients stay with Sivana is as comfortable as possible and is always on hand to help with anything that needs to be done. Gede speaks brilliant English and embraces all opportunities to learn something new. He says that life is not about how much money you earn or what you have but about what you have done. Often Gede can be found at the temple in the garden teaching the clients to mediate and explaining the concepts of the Hindu religion.
---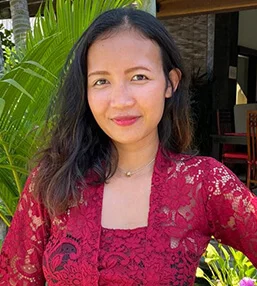 Ni Putu Sulistyarini – Sulis
Office Manager
Diploma in Business Administration
Sulis joined the Sivana team in February 2018. Her background in business and administration means that the administration side of the Sivana operation is a well-oiled machine. She said that she finds working for Sivana to be a humbling experience and that she enjoys the friendly people here.
While she was still studying for her diploma Sulis worked for a travel agency and after that was the secretary to the managing director of a building contractor in Bali. She then spent 5 years working for a different travel agent in Sanur overseeing all the contracts, products and services
---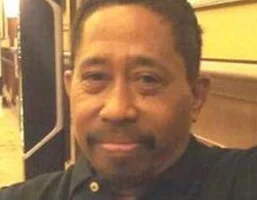 Jaury Roeland Hukom
Director of Sivana Bali
As well as being a lawyer, Mr. Hukom has been engaged as a Director by Sivana Bali. He has been a pillar of the community for more than 20 years and feels that Sivana Bali and his community have similar objectives ultimately: to serve and help people in need.
---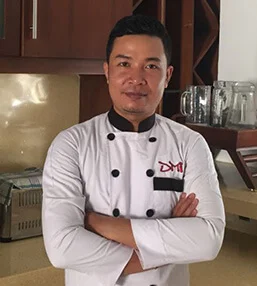 I Wayan Miarta
Chef
Diploma in Hotel Management
Chef Wayan has worked in the hospitality industry for many years and has extensive experience in the food and beverage sector. He began his career as a commis chef in one of the best Italian restaurants in Bali, which nurtured his outstanding cooking skills.
He received his diploma from the most prestigious University on the island focusing in Hotel Management and has worked in some of the most exclusive private villas in Seminyak, Canggu, and Sanur.
His skills were refined further to the western palette as he gained valuable overseas experience in Greece, Italy, and Moscow. Wayan takes great pride in the role he plays, helping clients to be restored to health and knows the delicious, nutritious food he prepares makes a real difference. He loves being a part of the Sivana family and does his utmost to cater for any special dietary requirements.
---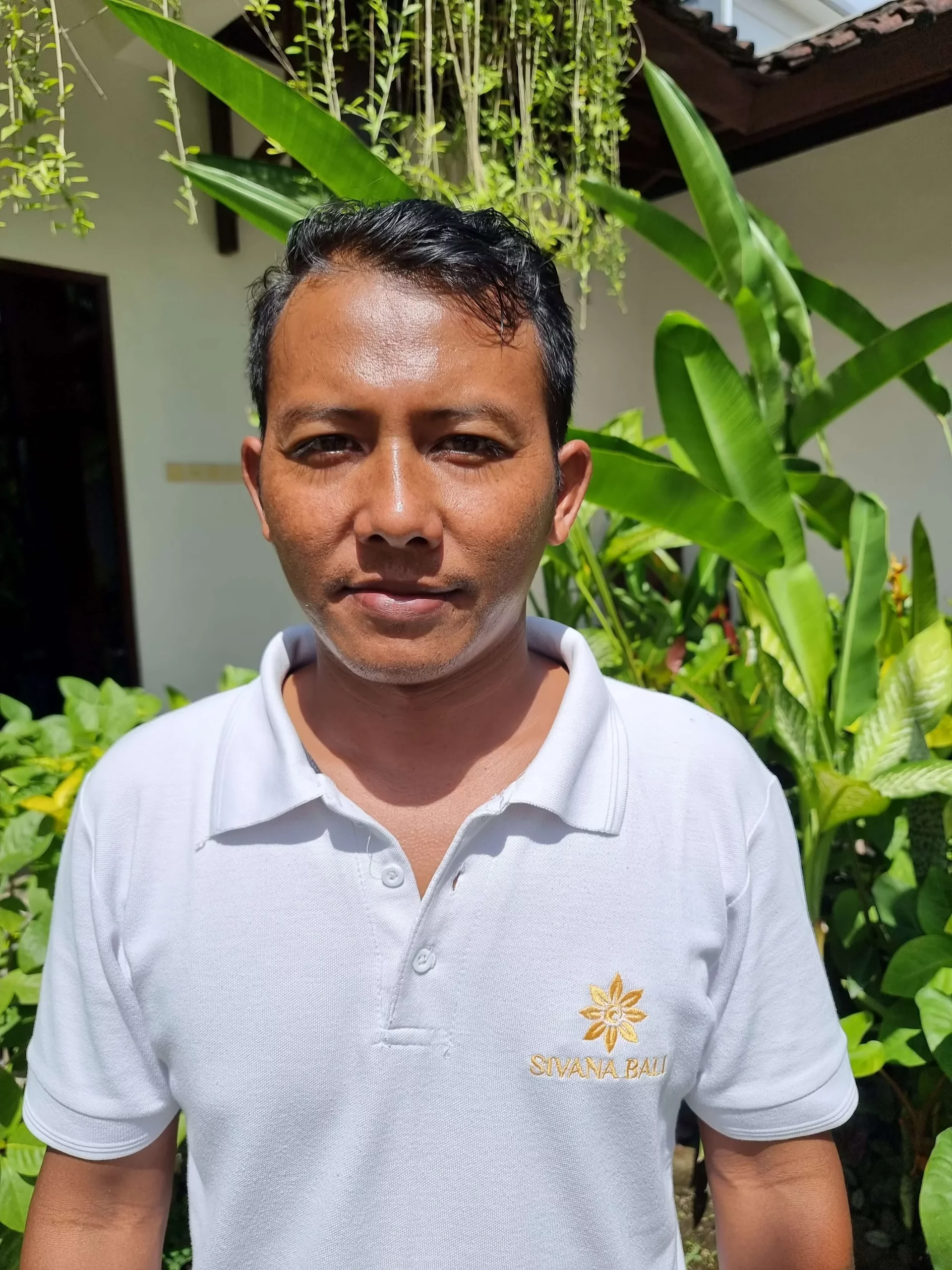 I Made Edi Antara – Regen
Driver
Regen joined the Sivana Bali family in 2017 and has the very important job of safely transporting clients on their weekly excursions.
Having successfully walked his own journey with addiction and recovery, Regen has a natural talent for supporting clients when needed.
With his contagious, warm smile and willingness to always go above and beyond, Regen is an integral member of the Sivana Bali family.
In his spare time, Regen can be found managing a community project where local Balinese families are fed. Regen also enjoys holidays with his family, and supporting his son through his various developmental phases.
---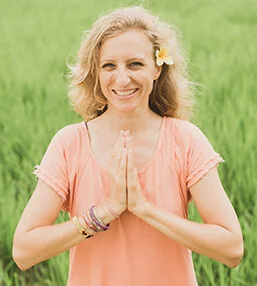 Vanessa Bachmann – Reiki and Yoga
200 hrs Yoga Teacher Training, Reiki Master Teacher, Naturopath for Psychotherapy
Vanessa is a Reiki Master and a Yoga Instructor with a background in coaching, meditation and mindfulness practice. Originally from Germany, Vanessa found her home in Bali after setting off to travel the globe in 2014. She is passionate about guiding people on their journeys in life and has worked with clients from all over the world, with different mental and physical health issues.
Vanessa was introduced to Reiki in 2006 and since then has loved to share this nourishing practice working on releasing people's energy blocks. Vanessa loves watching how the clients arrive at Sivana restless and anxious and how over a period of time they become calmer and more grounded. She says it's beautiful to watch them slowly opening up their emotions and treating themselves better.
Get In Touch



Canggu – Bali Indonesia 80361